The best pancake mix just hit the market
Ready in 5 minutes
1 pouch, 2 eggs, a cup of milk (or almond milk for dairy free)
Real, whole ingredients
5 grams of protein per serving, no extras
Flavor so good you don't need syrup
We pack these pouches with best flavor ingredientsText
Satisfaction guaranteed
If you don't like it, get in touch and we'll make it right
Who would have believed that a pancake recipe...
...could change your day! Thanks for keeping it simple—and delightful!
-Joe U. Verified Buyer
Best. Pancakes. Ever.
Best pancakes I've ever had! So easy to make and the flavors are fantastic. The lemon is my favorite - tastes like something you'd get at a fancy New York City brunch!
-Joe W. Verified Buyer
Delicious!
We made the lemon mix for friends and everyone loved it. The flavor was fresh and tasty!
-Lorraine C. Verified Buyer
Pancakes that make the earth quake
We cooked up some lemon pancakes for a group of friends this weekend and they did not disappoint. Did you know that all of these flavors go great with a Mimosa?
-Josh B. Verified Buyer
Delicious and fast delivery
Loved our first batch of Chai pancakes. Seriously perfect cake consistency and excellent taste. Also loved the packaging- it was beautiful and the directions clear. I like how they offer topping recommendations. Definitely adding blueberries to the lemon cakes!
-Benjamin P. Verified Buyer
Sensational pancakes!
The taste of the contents matches the awesomeness of the package design. Highly recommend serving these on your fanciest plates and splurging a little on accoutrements. Or, just beat the eggs and milk into the mix, cook 'em, and eat 'em. You decide.
David T. Verified Buyer
Hero Dad Pancakes
Wow! Lemon pancakes were awesome, my girls all loved them. The instructions were spot on, and the packaging exceeded expectations. Loved the velvety sort of feel of the plastic on the package. Can't wait to try Mocha and Chai!!!
Landon Verified Buyer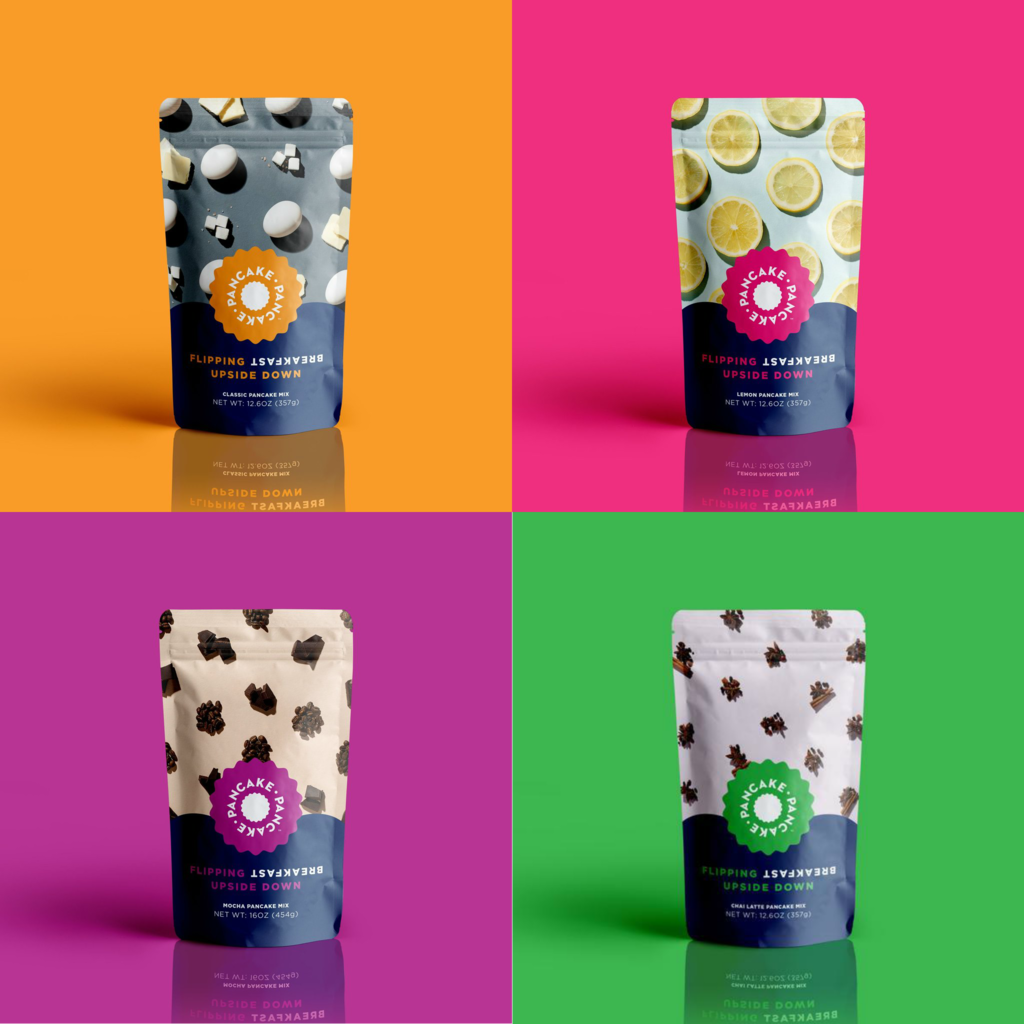 If you go through pancakes at your house literally like hot cakes, our four pack is just for you! Receive all four flavors: Classic, Lemon, Chai Latte, & Mocha Pancake Mixes and save some dough! Our pancake mixes bring extraordinary flavors into your home and are so easy to make. Each bag comes with easy-to-make add-in & topping ideas on the back to make them even more exciting.